---
End of July:
We spent exactly two months in Georgia. A country with mountains over 17'000 feet (5000m) high in the Greater Caucasus, holiday resorts on the Black Sea, lots of forest and countless churches and monasteries.
The 3.7 million inhabitants are spread over an area that is about one and a half times the size of Switzerland. A country in which we felt very comfortable and welcome, did some hikes, enjoyed good food and looked into extremely remote areas.
However, Georgia is also a country with very bad mountain roads and our Iveco has had a tough time! The weather was not always on its best side and June was regularly a bit wet.
Historically and politically it was and is turbulent in Georgia. A country similar to the Ukraine, which is westernized but has Russia in the neck. Here, too, the mood towards Russia is bad! Firstly, because Russia appropriated 20% of Georgia in the 2008 war with Abkhazia and South Ossetia, and secondly because of the current Ukraine war.
A few days ago, we arrived in Armenia and are looking forward to another part of our journey :-).
---
---
End of May: 
On May 14th, we celebrated our one-year travel anniversary. This is how we summarize the first year of travel: Leisurely - Nature - Carpathians - Hiking - House-sitting - Istanbul - Pamukkale - Ancient Sites - Turquoise Coast - Cappadocia - Visiting Parents - Beautiful Northeast. These are a few keywords that spontaneously come to mind. We only covered 9'300 miles (15'000km) in one year and were able to really enjoy cities, beaches or other beautiful places very often. Driven route: Switzerland-Austria-Slovakia-Ukraine-Romania-Bulgaria-Turkey.
After 170 days in Turkey, we entered Georgia at the end of May. Almost half a year in Turkey was great. Very friendly people, beautiful nature, good food and lovely, great hospitality. The weather was a little bad for us from time to time. Turkey had the hardest winter in 30 years, so our heating was on relatively often and breakfast or dinner outside was only occasionally possible in the almost 6 months! What is also a pity in Turkey are the language skills. Hardly anyone speaks English, so it is difficult to communicate with the extremely lovable Turks and to find out more about the country you are visiting.
We continue with Georgia, then Armenia and when the borders to Azerbaijan finally open (still closed due to Corona), also to Azerbaijan.
We are already looking forward to summer :-).
Beginning of April:
We are still very motivated to be on the road! However, we suffered a setback in the war against Ukraine. In our 4 weeks in the Ukraine last summer we got to know a lot of nice people and still don't understand what this terrible war is about.
Back to our trip. In the last few weeks it has mostly taken us along the beautiful turquoise coast of southern Turkey.
A sea in all shades of blue, a breathtaking coastal landscape and wonderful places to sleep. On this coast is also the famous 316 miles (509km) long Lycian hiking trail. One of the top 10 long-distance hiking trails in the world. We also took individual pieces of it under our feet on different days and it was simply fantastic.
On the less frequented streets we often met very lovable local people, from shepherds to fishermen to honey sellers.
You can tell that the tourist season is slowly starting. The sometimes huge hotel complexes open their gates and mobile homes accumulate at certain sites. The weather has remained cold for the last few weeks and our heating has been in use almost every day. Now it's finally getting warmer and we're looking forward to driving inland to Cappadocia, where we'll have parents visiting us from Switzerland in just under a week.
Mid-February:
And we got them, our Turkish identity cards. Now we don't have any stress and are allowed to stay in the country until the beginning of July.
In the last four weeks, we visited some archeological sites, and recovered from sightseeing at lonely sleeping places. They were fantastic, the more than 2000-year-old Greek-Roman sites like Ephesus or Hierapolis with their temples and Amphitheaters.
We made a worthwhile detour via the natural spectacle Pamukkale (Calcite travertines), and suddenly we were surrounded by snow at an altitude of over 3300 feet (1000m). We continued to the beautiful Datça peninsula where we stayed four nights and enjoyed the rocky coastal landscape.
We like Turkey and the people very much. A pleasant and exciting journey.
Slowly but surely the weather is kind to us and the rising temperatures invite more and more to be outside.
At the moment, we are enjoying a little break and looking after a house with cats and dogs for 8 days.
We continue towards Antalya and then heading east.
Mid-January:
Now it's already over a month later; how fast time can go by. In incredible Istanbul, we stayed much longer than planned.
Not a week, but a whole 20 days. Until shortly before New Year's Eve we lived in Istanbul! Not least because we sat isolated in the camper for several days because of Corona. But otherwise Istanbul was fantastic and a week just wasn't enough time! Find out more in our detailed report. Although we enjoyed city life with its advantages (e.g. food :-)), we longed for more peace and seclusion. The last 3 weeks we were mostly in lonely sleeping places with a view of the sea.
However, it hardly gets boring. We spent our free time walking on the beach, cooking delicious meals, learning to juggle, writing internet reports or just reading something in peace.
Along the Aegean Sea, along the west coast of Turkey, we also enjoyed the currently (off-season) peaceful and former Greek beach towns like Ayvalik, Foça or Çesme.
Since the usual 3 months residence permit in Turkey is not enough for us, we have decided to apply for an extension and will hopefully be able to pick up our new identity cards in Izmir in the next few days / weeks.
We plan to stay in Turkey for the next 4 months to explore and experience some of the countless fantastic places in this huge country. Then exciting Georgia awaits us.
Middle of December
In the meantime, we spent 6 weeks in Bulgaria and enjoyed the possibility to take a break from travelling. Just calming down instead constantly going on… :-).
We did house and (three) dog sitting in the centre of Bulgaria. The daily long walks in fall time in the middle of nature were definitely good for our soul and we had time to reflect and process the trip so far.
The Iveco started rolling again on the 1st of December with new motivation in our mind and a week later it said "Türkiye'ye hoşgeldiniz"; Welcome to Turkey :-). After a break at the Marmara-Sea, we continued to the 15 million mega-city of Istanbul.
We so far have a very good feeling about Turkey, friendly people and the best food so far on our trip! Istanbul is definitely different then the rest of Eastern Europe. More Asian, more Oriental, more chaotic but mainly more thrilling and lively.
Soon we continue to the South of Turkey where it hopefully is a bit warmer :-).
October 6th 2021

The first chapter of our travels came to an end! 
The mountain range of the Carpathians that extend from Slovakia, over the Ukraine to Romania. In a good three months in the Carpathians we covered over 65'000 feet (20'000m) in altitude in over 200 hours hiking. Wonderful landscapes, fantastic mountain lakes, wild untouched nature and very pleasant meets with the locals. The only thing a bit disappointing was the animal watching. But anyways, among others we have seen chamois, deer, foxes and even a bear.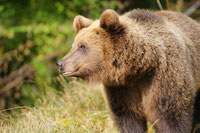 Until now we were on our trip at the right time at the right place. In the preseason we really could enjoy Slovakia before the masses of tourists were coming. The peak season we were in the not touristy Ukraine, so we also had our peaceful time there. And when the summer holidays came closer to end, we entered the touristy Romania.
The Vanlife in general, we still like very much. But we imagined and also planned to have a lot of time for ourselves. More time to cook, to read, to learn to play guitar, to learn languages etc. Unbelievably came this "time for us" a bit too short. We almost only had good weather, so we went hiking all the time. Besides the hiking we also visited many cities in the beautiful eastern Europe. Then writing precisely those reports and manage photos took actually quite some time. Not to underestimate is also the planning of the journey. Reading guide books, study maps etc. Often, we were moving from place to place, but rather short distances. The 4'600 miles (7'500km) that we drove so far are extrapolated to a year only 11'000 miles (18'000km).
Soon we will be sedentary for 5 weeks in Bulgaria since we will be house and pet sitting. We really look forward to this time since it really is time for a time-out of travelling.
August 13th 2021
Our 6 weeks in Slovakia were wonderful. The nice weather in connection with the countless hikes will stay in our memories as much as the gorgeous cities and towns with their fantastic churches and buildings! We continued excited towards east into the Ukraine. A country where we didn't know what to expect. How are the people? How are the roads? Is hiking possible without any problems? Is it safe? Etc etc etc… But exactly this is what it makes exciting!
Our Ukraine Route:
Now, after 4 weeks in Ukraine, we can only say good things about that place! The historic cities Lviv and Kiev were showing us how a country like the Ukraine can change over time by history, politics and demonstrations. Besides the unique and wonderful big cities has the Ukraine also countless hiking possibilities in the Carpathian Mountains, in the west of the country, to offer. The nature here has a diversity and is very wild as we've almost never seen before. Untouched ancient forests and lush grasslands full of flowers, butterflies and other insects.
Also the hospitality and the countless lovely and helpful people have made our visit to a memorable, beautiful experience.
In the next days, we will continue our trip into Romania, where the next part of the Carpathian mountains are waiting for us.
We are excited :-)!
July 5th 2021
We are already for more than 5 weeks in Slovakia. Very often hiking and just enjoying nature. Thanks to off-season and Covid we could enjoy the places without many other people. 
After the High Tatras we went tot he Low Tatras and hiked up the mountains Dumbier and Kralova Hova (view map). The Low Tatras look, as the name reveals, not anymore as high mountainous as the High Tatras, but still great for hiking. After castles and marvellous towns, we stranded now in the second largest and apparently most beautiful city in Slovakia, in Košice. 
Unfortunately, we slightly crashed into another car because the steps on the side of the camper were still out. Now we have to remain in Slovakia a bit longer before we can enter and discover the Ukraine.
We are excited and a bit nervous for the continuing into Ukraine. We are diligently exercising the Cyrillic alphabet and some words in Russian :-).
June 20th 2021
Since one week (not as planned 5 days) we are now in the High Tatras, and we stay two more days. The endless beautiful hiking possibilities made it impossible for us to leave :-). Hiking on top of a peak, to lake hikings and finally forest hikes, everything is here.
We decided to do the High Tatras first, then go to the Little Tatras, since the High Tatras will be overloaded with tourists; Can't blame them as we figured out :-).
Otherwise we are just enjoying our freedom and the easy life…
June 13th 2021
The little Fatra was wonderful for hiking. Although the region is not nearly as high altitude as Switzerland, we still reached in total 1 mile (1600m) in altitude difference in one day hiking. The weather was good for hiking, even when it was partially grey, but luckily it never rained!
The next five days we will spend in the high Tatras, where the mountains reach up to 8860 feet (2700m) and are the highest in Slovakia.
The weather forecast is sunny, the campground is quiet and has a great view, and the Iveco seems to work fine :-).
June 7th 2021
Finally we managed to leave the city life behind us. The past few days we stayed in the "small Karpate mountains", but we returned today, Monday back to the capital Bratislava, to get the late delivered new starter installed in the Iveco. A few hundred Euros later we continued towards north, in direction small Fatra, which is another small mountain in the North East of Slovakia. On the way there we currently stopped in the very famous health Spa town. Here we will go to the famous Spa and we are sure that we will feel years younger afterwards ;-)
 Hey, and we already speak 30 words in Slovakian :-).
May 23rd 2021:
After crossing through rainy Austria, we have arrived in Vienna. We are doing just fine and the car is running, although we need very soon a new starter..